While growing up in Dayton, OH, I never thought about being a priest. It was actually one of the furthest things from my mind. I wanted to be an engineer and I entered the University of Dayton to study Mechanical engineering. Everything went well, my roommate and I got along, I was doing well in class, and I made some really good friends. But something was just a bit off, as we were nearing the end of the fall semester an uneasiness grew inside of me. I didn't know what it was and only looking back on the time period can I describe what was happening.
I didn't immediately think that I needed to enter the seminary, I just knew that something was off and I needed to pray about it. Honest prayer was a new thing in my life. Since the last half of my senior year in high school, I had begun to take my faith more seriously. It all begin with praying the rosary every day for Lent. After that I kept moving closer to the Lord and living my faith in a fuller way.
When I arrived at UD this trend continued. I got involved in Campus Ministry, went to Mass daily, and prayed regularly. I think it was this life of faith that began to open up my life. As I was going deeper into my faith, falling more in love with Jesus Christ, His plan for my life opened up before my eyes. The uneasiness feeling that initially took me to prayer was being transformed to a life decision. I began to think about the priesthood and wonder if God was calling me to be a priest. I knew something was odd when I began day-dreaming about being a priest.
The feeling of uneasiness was an ever-present reality for a couple months. I kept praying about it and telling the Lord that I was happy at UD. I told the Lord that I would wait until after I graduated to enter the seminary, but the feeling wouldn't go away. Eventually I met with the vocation director and told him that I was planning to wait until after college to enter the seminary; it seemed like the right thing to do.
Over the next month the feeling kept coming up and I was surprised. Even after meeting with the vocation director and planning on entering the seminary, I was still feeling uneasy. I realized that I was putting Jesus Christ on hold; I wanted to do my plan before His; I wasn't willing to go all-in for Jesus. With this realization that I was putting the Lord on hold and that I would feel uneasy until I entered the seminary, I began the application process in April of my freshman year of college. It was the right decision and I am blessed that the Lord gave me the grace and insight to follow Him without delay.
Fr. Wilson was ordained in May 2016 and is currently the Associate Pastor of the Petersburg Pastoral Region.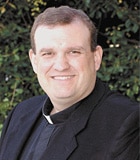 From a very young age (shortly before first grade) I kind of knew I wanted to be a priest and I continued that talk until high school. At that time it simply became a daily exercise not to be made fun of or to get beaten up for one reason or another. During high school I didn't think very much at all about the priesthood, though I still went to church (mostly because Mom and Dad made me). After high school I enlisted in the army for 3.5 years. During this time I began to go to Church because I wanted to and I became more involved in the choir and other ministries. My final duty station was in Hawaii, and there I met a great priest, Fr. Lee Hightower who took me under his wing and really prepared me for the priesthood. He would tell me, not ask me, that I was going to be a priest. We even had a little game, where he would tell me I was going to be a priest, and I would respond with no I am not. He would call me late at night and say, 'yes you are', then hang up. I would call back and respond, 'no I am not.'
While I was stationed in Hawaii, I learned the wonderful game of volleyball. I actually got so good that I was invited to try out for the all-army team. During the try-out and practice period I met a young woman and we started to date, eventually even getting engaged. On December 18th, 1993 she was killed in a car accident, shortly before we were to be married. I took this opportunity to rebel against God and religion.
Basically, I was at the Ohio State University playing volleyball, and I needed an excuse to 'hate God' so that what I was doing, and how I was living my life wouldn't feel so wrong. I was sexually active, addicted to pornography, an alcoholic and a terrible person. My last three years of college and the first year out of college I was playing pro-beach volleyball and spending my summers living in California. My life style continued to digress into complete self-satisfaction at all cost. But God was not done with me yet. In my first year of teaching special education (severe behavior handicaps/emotional disorders) a student brought a gun to school, and threatened to kill me, even taking the gun and pointing it at my head. This opened my eyes to the fact that because of my life style, if this boy pulls the trigger, I am going to hell. After that I started going to Church again and praying all the time. I met a couple of great families that took me in and prayed with me every night, and I mean every night for several hours at a time. Then on Divine Mercy Sunday of 1997, I went to confession for the first time in over a decade (13 years). I was absolved from my sins and I never felt better in my life, until May 31st of that same year when I said yes to God's invitation to be a fisher of men, at a summer conference at Franciscan University of Steubenville. The following year I entered the seminary and was ordained a priest on May 22nd of 2004.
Fr. Bowman is now the pastor of St. Patrick in Troy and Transfiguration in West Milton.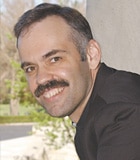 I know several men who first felt the call to the priesthood very early on in life, even as young boys receiving First Communion. But in my case, the call to serve the Church as a priest of Jesus Christ didn't come nearly that early. In fact, I took a very circuitous path to get to seminary.
I grew up in a large Catholic family of thirteen children whose faith was very strong. Thanks to the devotion of my parents, we were very serious about attending Mass each and every week (like it or not!); about knowing what the Church taught; about doing works of charity such as helping the elderly residents in the neighborhood; about observing the liturgical seasons by special ceremonies in the home; and making the most of the sacrifices my parents made to send all of us to parochial elementary schools and Catholic high schools by taking our studies seriously. So I grew up with a great appreciation for the faith, and the truth and beauty of the Church and her teachings.
But despite all this, I never really gave much thought at all to the priesthood as a young man. In fact, I admired and respected many of the Jesuit priests who taught me in high school. But when one of them told my parents at a teachers' conference that I ought to think about becoming a priest, I just laughed.
It wasn't until graduate school, when I joined a Catholic fellowship group when I really had a chance to take a good hard luck at my faith. In that student fellowship, we talked and prayed a lot about how we could put our faith into action and make the great gift of our Catholic faith the center of our lives. We attended Mass together, organized praise and worship sessions, and become very dedicated to pro-life work on our campus. We worked to transform what Pope John Paul called "the culture of death" into a culture of life and love. Through all of these, I developed a personal prayer life I had never had before. I began to pray very hard about what my faith meant to me, began to read the Bible more devotedly, and began to ask the Lord in prayer how he wanted me to respond to Him in faith.
I found myself spending more time in adoration of the Lord in front of the Blessed Sacrament (a devotion which was almost completely new to me). While listening to Him in the Blessed Sacrament, I began gradually to hear Him tell me what He wanted me to do: He wanted me to serve Him in a very radical way, to give up the plans and hopes and dreams I had for my own life, of becoming successful in the academic or corporate worlds, of having a wife and many children of my own. He wanted me to give these up for a plan that would be better for me. He wanted me to put my entire life at the service of His Church; to bring His salvific presence to the world in the Mass, and confession, and the sacraments.
This was not at all an instantaneous process for me. I didn't want to let go of my own dreams so easily. But over the next few years, the more I prayed, the more I became certain that this was His will for me, even though it wasn't my own will. One year, I was working as a volunteer in an inner city school in New Orleans, Louisiana. Every time I took our school children to Mass, I was blown away by the beauty of Christ's total gift of Himself to these children–and the whole world–in the Holy Eucharist. After I went back to work for a couple years as a computer programmer, a job I enjoyed, I found myself less and less attracted to the corporate life and more and more attracted to the apostolates I did "on the side" after working hours. Finally, one Good Friday, I was praying the steps at Immaculata Church in Mt. Adams. I was praying the Rosary, asking the Blessed Mother for her guidance, all the way up the Hill. When I got to the top, I knelt before the Crucifix to pray to Our Lord, and He made it pretty clear that I had been running too long, that it was time to go into the seminary and prepare for the holy priesthood. So I finally relented, quit my job, prepared to sell my condominium, and completed the application process which I had halfheartedly started with the vocation director a while back.
I knew the Lord's will, and I knew I should follow it. As reluctant as I was along the way, dragging my heels in the process, I look back now and wonder why I was so hesitant. The priesthood has been a tremendous privilege and joy, and I know now that, as unworthy as I was, God created me to serve Him and His Church as a priest. Nothing could possibly make me happier.
So my advice for any young man considering the priesthood, or wondering if he is called or not, is to make your prayer simple. Just ask the Lord for two things: the wisdom to know His will for your vocation, and the courage to follow it, even if that means making great sacrifices to get there. Pope John Paul the Great was a great priestly model for me, and an inspiration for me following the Lord into priestly service. He was very fond of reminding young people throughout his pontificate: "Do not be afraid!" The same words that the angel Gabriel proclaimed to Mary Mother of God at the Annunciation, the Lord speaks to you. If you sense a call to the priesthood, Do not be afraid to follow after the Lord, to answer the call and challenge to do the greatest work any man could ever do on earth: to save souls and bring them to Heaven.
Fr. Reutter was ordained in 2004 and is now the pastor of Our Lady of Victory in Cincinnati.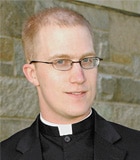 Growing up in the rural town of Botkins, Ohio, and living just a block north of the parish, the faith was always something that just made sense to me. I have four older siblings and a twin brother, and we all joined in the parish life as best as we were able. My two brothers and I were servers from the fifth grade, while my sisters sang in the choir among other things.
Around the time I was in third or fourth grade, Fr. Jim O'Conner was named pastor of our parish. He brought a wonderful spirit and vigor to the parish as he started to implement some changes to bring the parish alive. He would often call on my brothers and me to serve weddings and funerals since we lived so close to the parish. He would usually tell some joke to us, or explain something about the faith that helped it to come alive. Looking back now, he was the inspiration for me to enter the priesthood.
By the time I was in High School, I was dating more and involved with different things at school; so while I was still a server, I was not thinking about the seminary. My family did go on a few pilgrimage trips during this time, during which a few of the 'gray hairs' said I should become a priest, but I just passed them off at that time.
When I graduated, I wanted to change the world (and make money doing it!) Since my grandfather was pretty sick at the time with cancer, I applied to Ohio State University as a Pre-Med major, hoping to go into Oncology. However, God had another plan. I was involved with the Catholic Student Group at the Campus Newman Center when I heard a talk on vocations to the priesthood and religious life. I could not shake the thought from my head. When I got back to my dorm that night, I tossed and turned the whole night, trying to shake this thought.
I couldn't shake it, though. I came home for Easter of my freshman year debating on whether or not I should tell my parents about this. I finally told them about five minutes before I left to return to OSU. Mom was excited to say the least, but we looked at each other and said, "So, now what?"
Shortly thereafter, I visited the Josephinum in Columbus and felt like I was home. I decided to apply for acceptance and transferred there beginning my sophomore year in college. I graduated in three years, and after some soul searching, felt called to continue on with the Archdiocese of Cincinnati, which I know was the right decision. I enrolled at Mount St. Mary's Seminary in Cincinnati and continued to grow in faith and in understanding of who I was, and who I was in God's eyes as well.
During my time there, I interned under Fr. Tim Kallaher at St. John the Baptist Parish in Dry Ridge. Finally, I was able to start practicing what I was hoping to be able to do. It was wonderful working in the parish school, with the youth ministry and visiting the homebound. The idea of priesthood started to become more concrete, and more exciting. It was great to return to the parish as a deacon to preach on Sundays and to perform Baptisms and Weddings.
Just before ordination to Priesthood, I received my first assignment that I would be teaching full time at Elder High School. I immediately felt in over my head. I had graduated from a small, co-ed, public school and was now going to be working at a large, boys only, Catholic school, as different from my experience as I could get! But I loved it. Elder is a unique environment that allowed me to challenge my students to come to a deeper awareness of the faith while I also grew to become hopefully a better priest.
After two years, Bishop Moeddel once again called to say that I had been appointed Director of Vocation for the Archdiocese. Once again, I felt thrown into the deep end of the pool with a rock tied around my waist. But, with faith that God gives us the right words when we need them and that He gives the necessary graces to overcome our own weaknesses, I take up this new call to help those being called to feel the courage and strength needed to answer the call to come after Him, and be made fishers of men.
After serving as vocation director for 8 years, Fr. Schnippel is now the pastor of St. John Neumann and Corpus Christi in Cincinnati.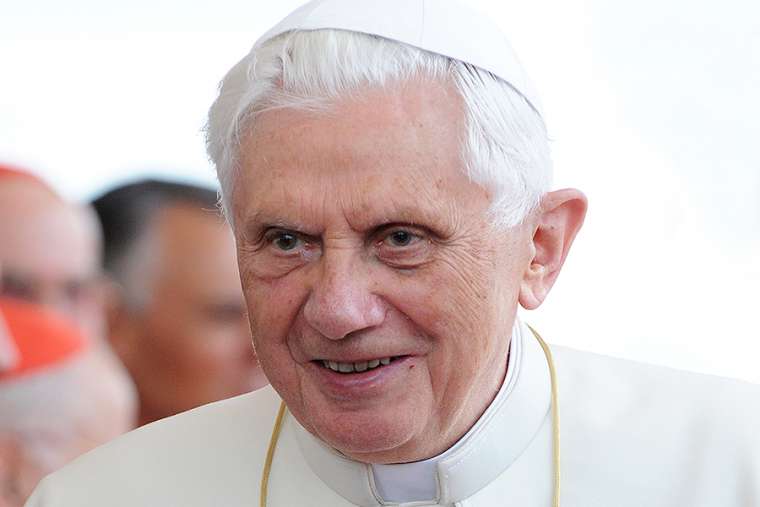 Pope Emeritus Benedict XVI
"As for me, I grew up in a world very different from the world today, but in the end situations are similar. On the one hand, the situation of "Christianity" still existed, where it was normal to go to church and to accept the faith as the revelation of God, and to try to live in accordance with his revelation; on the other, there was the Nazi regime which loudly stated: "In the new Germany there will be no more priests, there will be no more consecrated life, we do not need these people; look for another career." However, it was precisely in hearing these "loud" voices, in facing the brutality of that system with an inhuman face, that I realized that there was instead a great need for priests. This contrast, the sight of that anti-human culture, confirmed my conviction that the Lord, the Gospel and the faith were pointing out the right path, and that we were bound to commit ourselves to ensuring that this path survives. In this situation, my vocation to the priesthood grew with me, almost naturally, wi thout any dramatic events of conversion."
– Benedict XVI, Apr 6, 2006